At OrtoVena, we recommend some orthodontic accessories to our patients (toothbrush, dental floss, toothpaste), which in the course of orthodontic treatment allow for proper maintenance of the cleanliness of braces and promote good oral hygiene. Our trained orthodontic hygienists carefully explain what type of orthodontic products should be used and how to insure that an orthodontic appliance is not damaged, and at the same time retain its purity. This applies particularly to situations in which a person wears braces and must maintain hygiene after daily meals and beverages, including those containing a large amount of sugars.
Selected orthodontic accessories, including: toothbrushes, dental floss, toothpaste recommended in OrtoVena:
Toothbrushes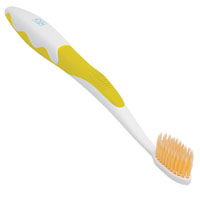 Ortodent Gold is a toothbrush created for people wearing fixed appliances. The bristles of the brush's dual structure are comprised of gold nanoparticles which kill bacteria. Gold nanoparticles penetrate into bacterial cells, killing them. In addition, the ergonomic toothbrush handle makes it easy to reach hard to reach places. Thus, it perfectly cleans hard to reach places and corners of each brace.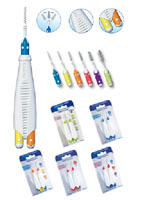 ELGYDIUM Clinic Interdental toothbrushes TRIO Compact, interdental toothbrushes have been specially designed to effectively clean all interdental spaces. Interdental cleaning is very important because there is an increased risk for caries and later periodontitis. This is particularly important for patients wearing orthodontic appliances. The hand brush has a stable, non-slip surface, which offers total hygiene since it was designed to store three small brushes. The package contains 2 brush Elgydium TRIO Compact and the mix of 6-five tips: 2 x 1,9mm, 2x 2,5-2,2mm, 2x 3,5-2,7mm.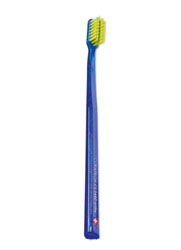 Curaprox is one of the best-selling orthodontic toothbrushes on the market, specially designed for people wearing orthodontic appliances. Profiled fiber effectively cleans all the elements of permanent braces. A special "notch" provides the perfect cleaning of the external surfaces of locks, rings and bow. Until 5460 the fibers guarantees to maintain ideal oral hygiene and braces. The Swiss-produced Curaprox toothbrushes are available for children, adults and the elderly.
Dental floss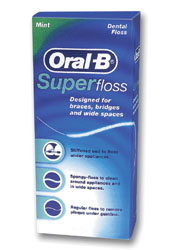 Oral-B Super Floss is ideal for cleaning nooks and crannies teeth during treatment with braces. The dental floss should be complementary to the orthodontic toothbrush, so that cleaning of the teeth, which are glued orthodontic braces, can be brought to perfection. The dental floss is divided into 50 pieces, which, depending on requirements, can be detached from the whole.
Toothpaste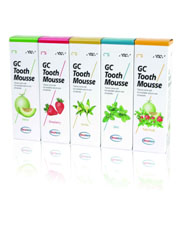 GC Tooth Mousse toothpastes for topical use are comprised of bioactive calcium and phosphate. It comes in five flavors: melon, mint, strawberry, tutti-frutti and vanilla. GC Tooth Mousse pastes are water-based and comprised of a revolutionary RECALDENT component which accumulates on the film of plaque, bacteria, hydroksyapatytach and soft tissue and provides a bioactive calcium and phosphate barrier on teeth.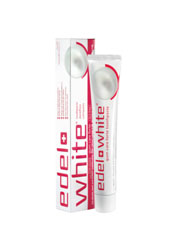 Edel+white is a Swiss-produced toothpaste. This extremely delicate formula protects gums and prevents tartar, while perfectly strengthening teeth and giving them a "healthy" glow. Edel + white paste is one of the few on the market which do not contain any harmful SLS factors.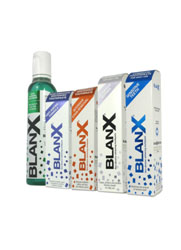 BLANX is toothpaste in which the interaction of active natural components (lichen from Iceland) and two active fluorine compounds act as bleach which is non-destructive to the structure of tooth enamel. This toothpaste acts as a preventive and cosmetic factor regulating and stabilizing natural symbiosis of oral microflora.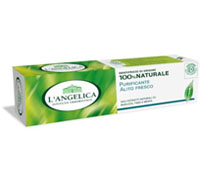 L'Angelica is Italian toothpaste containing 100% natural plant extracts that cares for the mouth in a completely natural way. Plant extracts of sage and eucalyptus contained in L'Angelica help fight plaque while giving long a feeling of freshness. The combined action of natural extracts in L'Angelica allow for unique moisturizing, refreshing and restoring of the natural whiteness of your teeth. It also contains clay for purifying and restoring bacterial balance in your mouth.